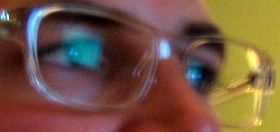 The Velvet Underground - "Pale Blue Eyes"
Lately, I have been a bit taken with Patti Smith. I think she's extremely sexy. Second only to Eleanor Friedberger, Patti is my hetero girl crush (Patti-back-in-the-day, not current-Patti, who is identical except for the salt-and-pepper-hair, but for some reason, her teeth look even more wooden to me now). I just watched Amos Poe's
The Blank Generation
and the accompanying documentary on Ivan Kral,
Dancing Barefoot
(which turned out to be people primarily talking about Patti rather than Ivan).
The Blank Generation
isn't spectacular in concept -- it is Ivan's 8mm silent footage of some seminal gigs at CBGB's, with music (singles, not the actual live music) added as the soundtrack -- but it nonetheless further sated my current obsession, the New York punk/no-wave scene. The biggest surprise was a psychedelic-ish band, The Marbles (mostly known for their Bee Gees' covers), that prominently featured an Asian keyboardist. Asian rockers: kind of goofy.
I was looking for the Patti Smith cover of "Pale Blue Eyes" but could only find a copy that cuts off before the end of the song.
UPDATE: I ask, and
The Mystical Beast
answers.